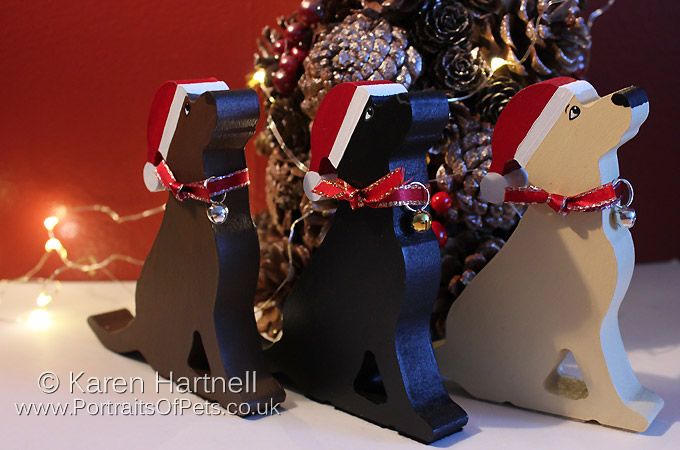 As we approach four months until Christmas, and apologies for mentioning it in August, I thought I would do a post about my Christmas Labradors. I try and have one of the colours already painted in stock, but most times they are painted to order. I aim to turn them around in a week, but this could be a couple of weeks leading up to the busy festive period.

Each Labrador is solid 18mm thick MDF wood.

Design is 12cm high. Primed then colour painted in acrylics, finished with light coat of matt varnish spray. Base of Labrador has a thin layer of felt added for surface protection.

The Labradors have a ribbon collars, and attached onto those via a mini split ring is one jingle bell charm – and it jingles!

There are two colour options for the ribbons and bells:

Gold: Red ribbon with gold edging, gold split ring and jingle bell charm.
Silver: Red ribbon with silver edging, silver split ring and jingle bell charm.

Each Labrador is priced at £15.99, including 1st class postage (UK only). Full details can be found on the product page in my online shop here:
Freestanding Wooden Christmas Labrador.