About Me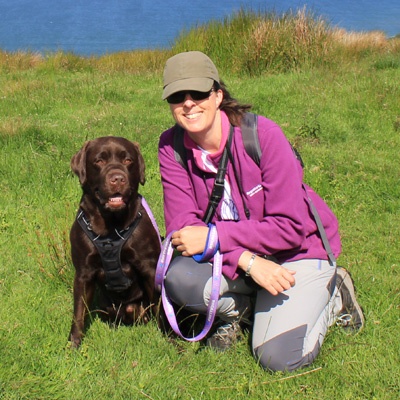 Born and brought up in Hampshire, since 2003 I've been based in the beautiful small county of Kinross-shire. The move to Scotland inspired me to return to landscape painting.
Naturally, after I had become the proud owner of my first dog in 2004, I discovered a love of painting pets. A new career was born!
That first wonderful dog was Corbie, a chocolate Labrador, and my artistic inspiration. In early 2017, Logie joined Corbie. Sadly, Corbie passed away on Christmas Day 2017, aged 13, and is much missed.
In 2020 I started trick training with Logie and gained our Novice, Intermediate and Advanced titles. In early 2021 we gained our Expert Trick Dog title, and also our Foundation and Bronze levels of the CHUK Online Good Hoopers Awards. If I'm not painting, or watching wildlife, I'll usually have a handful of treats and some new training game underway!
Since 2014 I have been a volunteer with the RSPB, helping to keep watch over a pair of White-tailed Eagles. I had a selection of my White-tailed Eagle artwork on display at the RSPB Sea Eagle Festival celebrating 10 years since the East of Scotland reintroduction.
A far cry from wildlife, but another interest of mine is the history of the Second World War, especially women's roles and the old airfields.
My website has detailed information about the Commission Process, as well as my various art work Galleries: Dogs: watercolour | acrylics | pencil; Horses; Cats; Wildlife; Rabbits; Landscapes.
I hope you enjoy looking at my work.