About
Artist Karen Hartnell is based in the beautiful small county of Kinross-shire, Scotland.
Karen has called Scotland home since 2003, having spent all of her pervious years on the south coast of England in the county of Hampshire. The move to Scotland inspired Karen to return to art.
Karen has enjoyed painting for as long as she can remember and studied art to A Level at college. From then on everything has been self-taught and continues to learn and develop her art.
Karen is also Editorial Designer for The Household Cavalry Journal and the Household Division's The Guards Magazine, and has been designing these publications for over 10 years.
She has also designed a book written by friend and fellow dog owner, Liz Devonport: Unleash Your Inner Superhero: Techniques for Dog Sports Competitors to Eliminate Anxiety available from Amazon here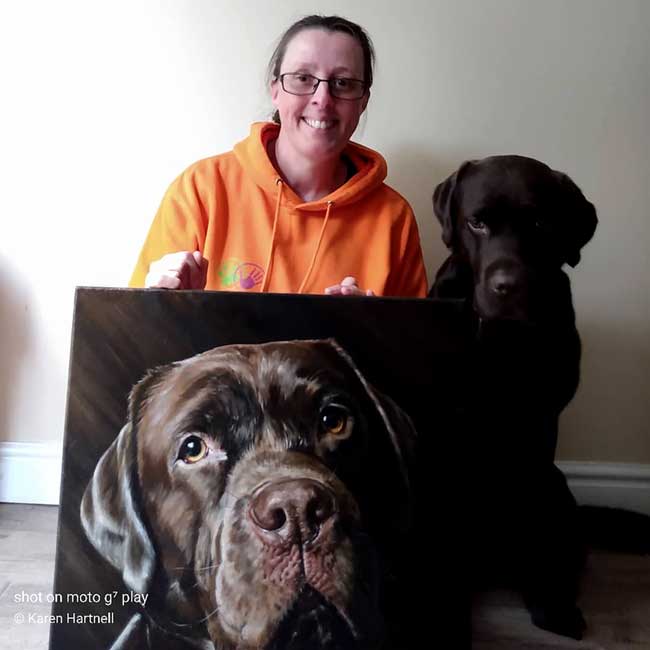 For the love of dogs … and ponies
Sharing childhood years alongside her parents' various West Highland Terriers, Karen finally become the owner of her first dog in 2004; a chocolate Labrador called Corbie. Sadly, there was the heart breaking goodbye to Corbie on Christmas morning 2017, a wonderful much-missed family member. A second Lab, Logie, joined the family in early 2017.
Growing up, Karen was obsessed with horses and dreamed of becoming a showjumper. She had horse books, horse-themed bedroom wallpaper, horse toys, and even a pony of her very own, a bay Welsh Mountain Section A called Bobby Breeze. Fast forward many years out of the horse world, and in 2023 Karen became a shareholder in a stunning racehorse called King of Answers.
Wildlife
Moving to Scotland rekindled Karen's passion for wildlife, with many incredible encounters, and it is these memories that will often spark an idea for a painting.
Karen's favourite way to relax is watching wildlife, and has spent many hours in the company of all creatures great and small. Karen aims for her love of the natural world to show through in her paintings. A piece of art may even trigger a memory of a special wildlife encounter you have had.
Karen's passion for one species of bird in particular is evident in her wildlife work: eagles.
From 2014 to 2017 she volunteered with the RSPB, helping to keep watch over a pair of White-tailed Eagles, and continues to help whenever required.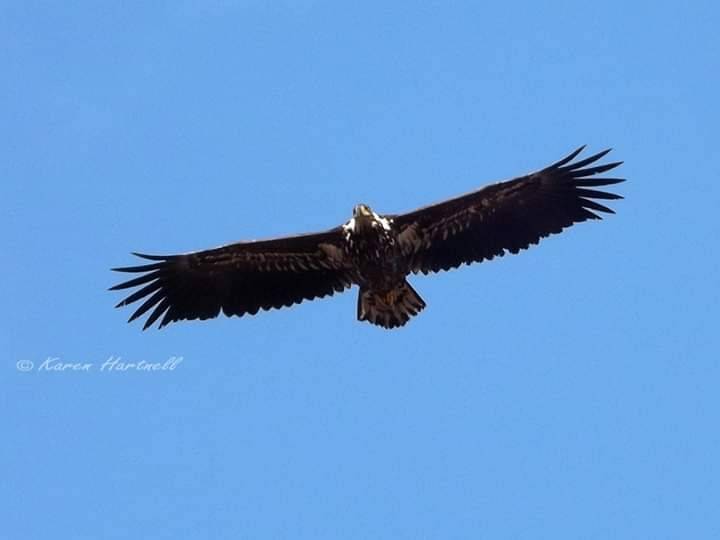 A selection of Karen's White-tailed Eagle artwork was on display at the RSPB Sea Eagle Festival in 2017, celebrating 10 years since the East of Scotland reintroduction.
These birds have also inspired many cartoons, capturing their antics in her Eagle Antics: Tales from Scotland's White-tailed Eagles series.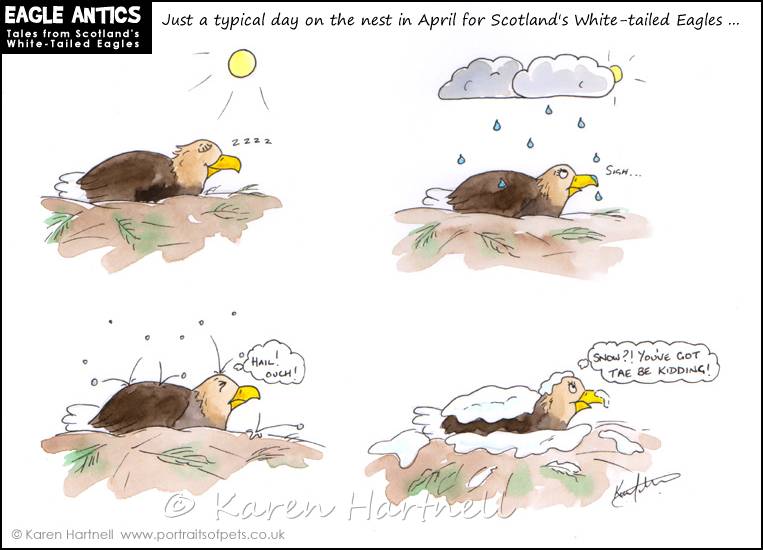 Dog training and tricks
The rest of Karen's time is focused around her Labrador, teaching him lots of fun things: he can even paint! Karen has been learning from world renowned educator in all things canine, Susan Garrett, since 2019. Together with her Labrador, Karen also appear as a guest trick instructor in Susan's Wag Nation online membership program, teaching some fun tricks … one of which is teaching dogs to paint!
They have gained the Do More With Your Dog! (the official sanctioning body of dog trick titles) Novice, Intermediate, Advanced and Expert Trick Dog titles together. In 2023, Karen qualified as a Certified Trick Dog Instructor. She can now assess students' tricks to award the official trick dog titles To gain this Karen had to show proven skill at training a dog (using positive reinforcement); sound knowledge of dog training technique as evaluated on exams; and demonstrate ability to communicate training techniques to students.
As well as tricks, the pair have earned their Foundation, Bronze and Silver levels of the CHUK Online Good Hoopers Awards. 
Interested in a Pet Portrait Commission?
Contact Karen by email at karen@portraitsofpets.co.uk or portraitspets@aol.com with your requirements.
On Karen's website you can view full details of the commission process and price guides, as well as downloadable PDF with the information for easy reference.