About Me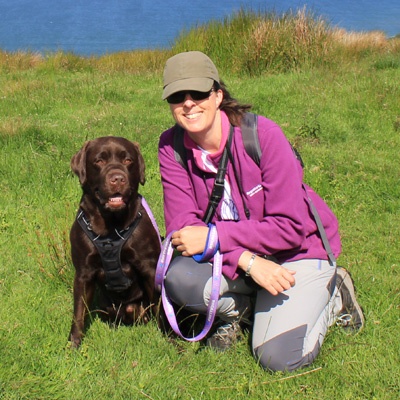 Born and brought up in Hampshire, since 2003 I've been based in the beautiful small county of Kinross-shire. The move to Scotland inspired me to return to landscape painting.
Naturally, after I had become the proud owner of my first dog in 2004, I discovered a love of painting pets. A new career was born!
That first wonderful dog was Corbie, a chocolate Labrador, and my artistic inspiration. In early 2017, Logie joined Corbie. Sadly, Corbie passed away on Christmas Day 2017, aged 13, and is much missed.

In 2020 I started trick training with Logie. To date, we have earned our Novice, Intermediate and Advanced Trick Dog titles.
Since 2014 I have been a volunteer with the RSPB, helping to keep watch over a pair of White-tailed Eagles. I had a selection of my White-tailed Eagle artwork on display at the RSPB Sea Eagle Festival celebrating 10 years since the East of Scotland reintroduction.
A far cry from wildlife, but another interest of mine is the history of the Second World War, especially women's roles and the old airfields. This is an area I hope to do some artwork on in the future.
My website has detailed information about the Commission Process, as well as my various art work Galleries: Dogs: watercolour | acrylics | pencil; Horses; Cats; Wildlife; Rabbits; Landscapes.

I hope you enjoy looking at my work.