Testimonials from customers
'We wanted a picture of our beloved dog "Biscuit" which we could keep & cherish.
Therefore we commissioned Karen to draw Biscuit from a recent photograph, the likeness is so unbelievable it's actually really hard to believe it's a painting & not a photograph.
Service received from Karen was outstanding & the expectation was so much higher than anticipated.
I would not hesitate to recommend Karen to anyone' Kevin (Essex)

---
'I absolutely love Dìleas' portrait. The detail in his coat is amazing. You have captured him beautifully. Thank you so much.' Alison Ogilvie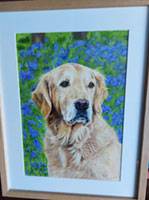 ---
'Hi Karen, I want to say thank you for the beautiful portrait of Harry, my friend's Welsh D pony. It was a Christmas present and they loved it. I highly recommend you and your skills to everyone looking for artwork!' Bridgit Gilmore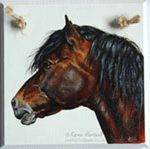 ---
'Karen is the best artist to draw a true likeness to your pets. The paintings of my rabbits are amazing and a lovely memory of them. The little black one was so hard to photograph as often she just appeared pure black. Karen's painting of her is more of a likeness than any photograph, which I didn't think was possible. This picture shows them all framed and I treasure them. A lovely reminder of Carlos, Cleo, Buddy and Duffy. Thank you'
Heather Pinchien
---
'We are absolutely delighted with the pictures you have recently drawn of our two Chocolate Labradors Happy and Brogan. You have captured their individual looks and charm in the most amazing way and we will cherish them forever. Sadly we lost Happy recently and these drawings will mean even more to us in the future. We will be sending some more images over the coming years for you to work your magic on our two new babies Spud and Nugget.' Jeremy and Trina (posted on my Facebook page)
---
'I have ordered a few original 'Karen' for a forum I belong to. When a member lost a Labrador we would ask Karen to paint us one of her marvellous portraits. Many tears have been shed over this very talented artist. I lost my 2 Labradors within weeks of each other I was heart broken but some lovely friends bought me beautiful portrait of my girls. Karen captured my girls brilliantly, it's honestly like a picture. As you can see, it now hangs in pride of place.' Elle Pollock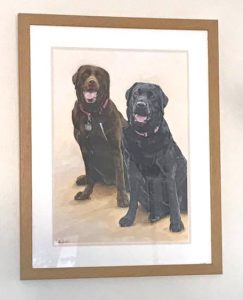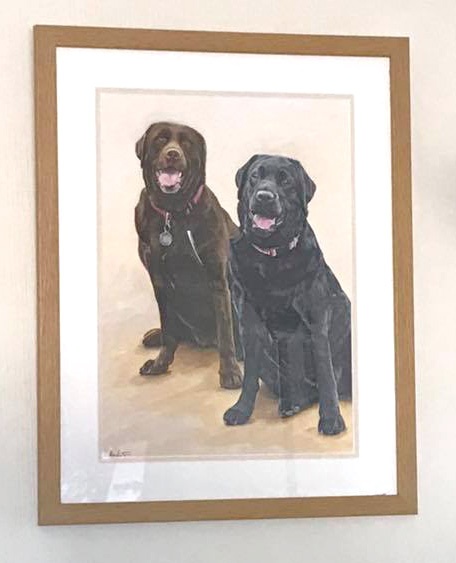 ---
'I'm lucky enough to have 2 portraits of my lab Charlie painted by Karen. Both are amazing and really capture his look and personality. I would highly recommend her to anyone wanting a pet portrait.'
Wendy Elliot
---
'I can't thank you enough for wonderful painting and drawing you did for me recently. The quality of your work is superb and the resemblance is uncanny. I look forward to placing more orders next year. It was an absolute pleasure working with you, thank you for your expert advice and guidance. I could not have been happier with the results. Thank you and best wishes, Faye' Faye Buchan (posted on my Facebook page)
---
'Thank you so much Karen for my portrait of Harvey. I love it. ❤️ what an amazing talent you have.'
Gillian Littlejohn (posted on my Facebook page)
---
'Hi Karen just want to say a huge thank you for the portrait you did of my Cocker Spaniel Charlie. I gave it to my husband on Christmas day and he was speechless. You really are a talented lady. You can now share on your facebook page your lovely creation.' LeeAnn McGeorge (posted on my Facebook page)