My latest painting is of a handsome Thoroughbred horse called King of Answers.
Update: The painting is now complete and fine art prints are available in my online store here: King of Answers, Thoroughbred Horse – Giclée Art Print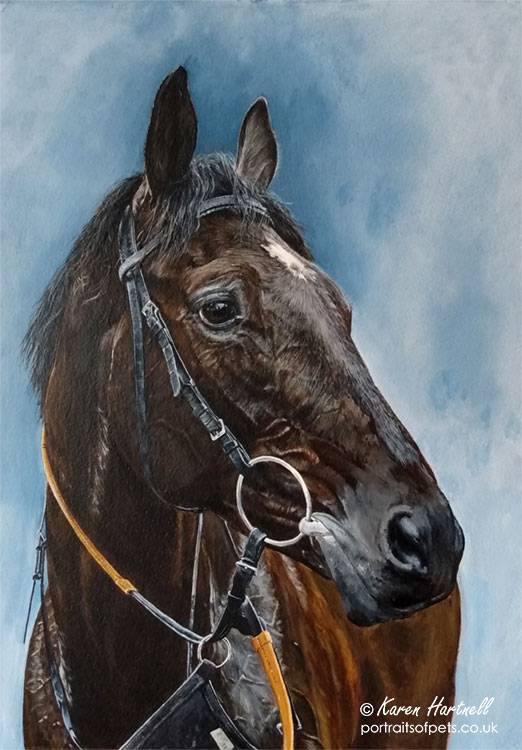 I love horses. When I was a child I was obsessed! I went to a local stables, eventually got my own pony, a Welsh Mountain Section A. When I outgrew him, I never rode again.
Fast forward to now and in May 2023 I became a shareholder in a 4-year-old gelding Thoroughbred called King of Answers through Claymore Racing.
I don't know much at all about horse racing and that is one reason why I have done this, to learn. My local racing yard (Lucinda Russell Racing) has produced two Grand National winners: 2017's One for Arthur and in 2023 Corach Rambler. King of Answers is being trained there, and the opportunity came up to purchase shares.
I'm really into my dog training, as well as learning about canine fitness. My coach is a multiple world champion in the sport of dog agility, so I've learnt a thing or two of what goes into achieving peak fitness with canines, and now I'm learning about the equine equivalent. It's really interesting so far learning about the pre-training.
I'll post a montage of all of the progress photos I've been taking once the painting is finished.
King of Answers painting in progress, August 2023
Painting information: A3 size, acrylics on heavyweight 535gsm Bockingford watercolour paper.