I love winter and snow days, especially when the sun is out. This time of year the light is amazing.

A proper winter definitely beats those dull, damp, grey winter days I often experienced in my native Hampshire. Snow was a rare occurrence where I grew up. Once every ten years there would be a good covering.

When I moved to Scotland and experienced my first proper winter, it was very exciting. There were many picture-postcard Alpine-like views. And I also learnt that a 'wee dusting' in Scotland is usually several inches!

2021 started off cold, with a good dumping of snow early February; the most we have had here since 2018. It was good to get out walking in it around the area.

Here's a few recent snow photos:
I've noticed today that the Blue Tits are in and out of the nest box. A pair nested in it last year, following a run of seven years by Great Tits.

A fieldfare was also a recent visitor, perching by a hawthorn shrub at the back of the garden. I've never had them visit so close to the garden, and this lone bird seemed happy to have claimed its patch.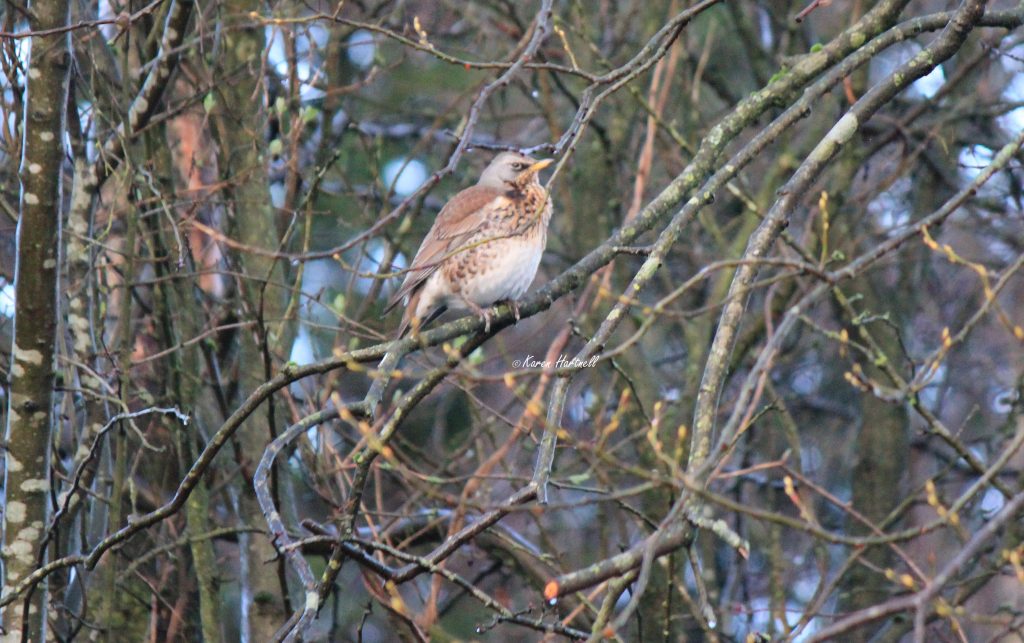 I was lucky to have this red squirrel visit the nut feeder. I do have a dedicated squirrel feeder, but it must've fancied some acrobatic feeding! I have some Red Squirrel artwork in my Wildlife gallery.
© Karen Hartnell