On Sunday 16th June, I took part in Marine Clean 2019 organised by a good friend of mine, Ailsa, who volunteers with the British Divers Marine Life Rescue (BDMLR). The clean was done in memory of a Humpback Whale who was spotted earlier this year in the Firth of Forth dragging a buoy along behind it. Sadly, another sighting of the entangled whale didn't materialise. It washed up on a beach near Dunbar several weeks later. You can read the sad story on BBC Scotland here.

A few weeks ago another entangled Humpback washed up dead in Caithness; read the story here.

Although we knew we wouldn't be able to rid the sea of all litter, we could do our little bit. A clean-up was organised for the Fife and Lothian coasts of the Forth. I went along to Buckhaven in Fife and, together with Ailsa and two other lovely ladies, Jackie and Eileen, we clambered over large rocks armed with litterpickers, and got drenched by heavy (summer?!) showers. We didn't let the rain dampen our mission: to collect as much litter as we could. There were creels, countless plastic bottles, polystyrene, plastic cabling, plastic pipes, rubber, wrappers, rope, a toy tractor (the front wheels of which we found on a separate part of the beach), to name a few. There were many items wedged in the rocks unable to be recovered. This was all collected from a short stretch of the coast of approximately 100m in length. It wasn't the easiest of terrains to beach clean as you can see from the photo.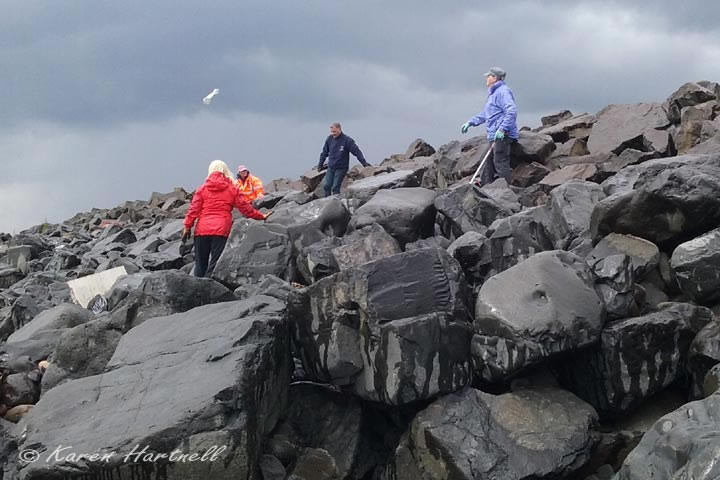 All of the other clean-ups that went on both sides of the Forth also collected a good haul. It's sad that we know there is still so much more rubbish floating around there, and it will continue to get washed up, but at least the items everyone managed to pick up are no longer on the shore.

It was a tiring few hours, but much was achieved. A large bag full of plastic bottles will now be recycled. Robbie, from Fife Coast and Countryside Trust, gave us a hand and took away other recyclable plastics.

For more information and photos showing the various clean-ups, please visit the Marine Clean Facebook Page.

If you're inspired, as I was, by the sad story of White Fluke the Humpback Whale, why not try and do your own coastal clean-up? Even just a few items lifted and binned are a few less to endanger the wildlife.

Below are some photos of the marine rubbish we found.
Creel wedged in the rocks

Our pile of marine litter collected

Looking out over the Forth towards Bass Rock

Toy tractor = plastic

A selection of the items collected

Removal out of harm's way

In memory of White Fluke
Copyright Karen Hartnell