My eagle art work has so far been focused on UK-native species, but I have recently completed a painting of a Bald Eagle Family.
The painting
The painting Bald Eagle Family depicts an adult Bald Eagle on the nest keeping a watchful eye on the twins. These particular birds are in Canada. I enjoyed the challenge of putting this piece together, I love painting eagles.
Eaglets grow so quickly, from tiny fluffballs into chicks as large as their parents within a couple of months! I think have managed to capture the cheekiness. Anyone who has been lucky enough to watch eaglets at the nest will know how mischievous they can be as they grow and begin to become more aware of their surroundings … and each other!
This painting reminds me of my nest watches with White-tailed Eagles, the larger cousin of the Bald. The species are very alike, with the youngsters almost identical in colour.
My reward for finishing this painting is getting to read a book I recently found, The Bald Eagle: Haunts and Habits of a Wilderness Monarch. Having had a quick flick through, I've learned they too have endured challenges like the White-tailed, and had similar reintroductions to boost the population.
Anyone who follows me on my social media platforms – Facebook, Instagram – will come to know that eagles are a passion of mine.
I haven't yet seen a Bald Eagle in it's native environment, only the captive bred bird, pictured below. Maybe one day…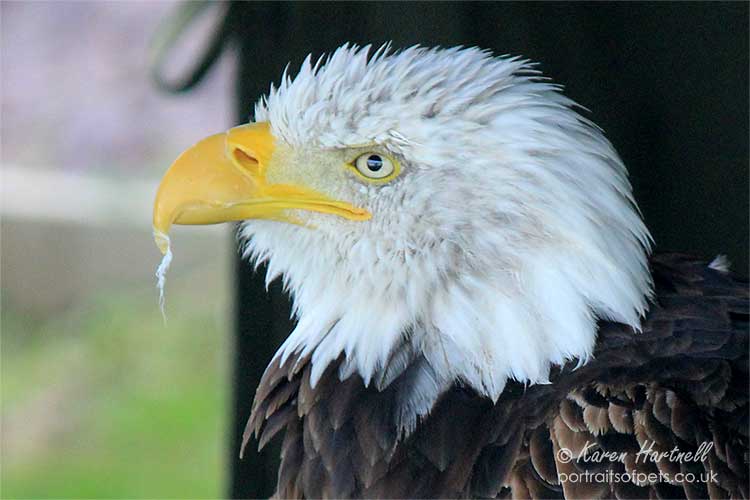 Bald Eagle facts
Bald Eagles are native to North America.
It is a species of sea eagle, scientific name being Haliaeetus leucocephalus, and a close cousin of the UK's White-tailed Eagle, Haliaeetus albicilla
Like White-tailed Eagles, they mature around 5 years of age, when they will have their distinctive white head
The term 'bald' doesn't relate to a lack of feathers on the head, but is derived from an old English word meaning white
The Bald Eagle's wingspan measures around 2 metres, or 8 feet.
Video of painting progress
Painting information
Size: A3 size, 420 x 297mm / 16.5 x 11.7″
Medium: Acrylics
Paper: Heavyweight 535gsm Bockingford watercolour paper
Winsor & Newton Professional acrylics, Daler Rowney System 3 acrylics
Reference photos by Susan Garrett, used with permission.
This painting may be for sale in the future and I'm planning Giclée art prints. I will post when these become available.