Towards the end of 2019, I was thinking about a new art challenge for myself for the New Year. Coloured pencils are something I haven't had a proper go at. I've had a tin of Derwent Drawing Pencils sat in a draw for a few years, unused. Bought on a whim of thinking I would have a go with them, but too scared to actually put pencil to paper in case I couldn't achieve exactly what I wanted to. Oh, the confidence of an artist!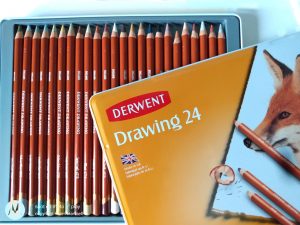 Last year I blogged about some Red Squirrel visitors to my garden (see here), so I have plenty of reference material, and hours spent watching them. I decided on an image of a pregnant female red who was the first to visit in the summer. I don't know how much food she managed to eat her way through!
I decided to draw the portrait on smooth Bristol board paper, as I'm not a fan of 'toothy' papers, preferring a smoother overall look to drawings. After the first hour, I was ready to bin it. I couldn't achieve the colours I wanted, and the pencils were too soft. I took a break.
With a clearer head a while later, I resumed. I kept building up the layers of colour realising it wasn't too far off the way of working with watercolour. Keep layering until you reach the desired colour and tone.
In the end I was really pleased with the result and I think I will use the pencils again, experimenting on different types of paper to find which suit my style of working.
© Karen Hartnell 2020