Updated November 2022
🎄Christmas commission bookings are now closed for 2022
Bookings being taken for 2023. Slots available from around late February.
January 2023 fully booked.
Mid-March-mid April fully booked.
---
In this blog post is information regarding orders for Christmas Pet Portrait Commissions in 2022, and how to make a booking. Early booking is advisable.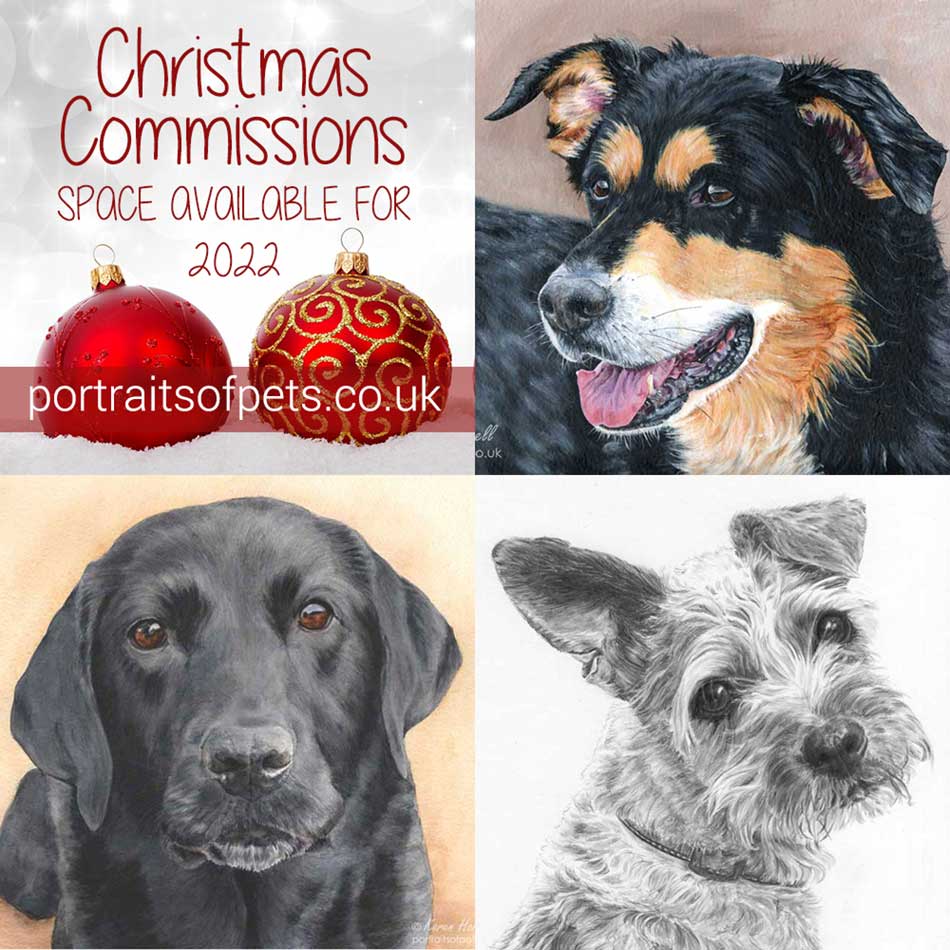 Pet portrait Christmas gifts
A painting makes a unique gift to treasure of a beloved pet. Dogs, cats, horses, or smaller pets, I can turn any animal into a painting, from a good quality photo, to surprise a loved one with at Christmas.
Pet portrait commission information links
Price Guides page. A 50% deposit secures your place on my waiting list.
Portraits are painted from your photos. I have written a blog post giving some tips for the photos you provide for a portrait: Pet Portraits: Photo Hints and Tips
Download a PDF of my Commission Guide pages: PDF Commission Information Download
Booking deadline
I advise early booking to ensure your commission is completed in time. Orders are worked through on a 'first come, first served basis'.
International customers. I can no longer accept overseas orders for pre-Christmas delivery as I can't make the delivery cut off dates for international mail to be received in time for Christmas.
Get in touch
I can be contacted at karen@portraitsofpets.co.uk if you are interested in placing a booking for Christmas or if you have any questions on the above.